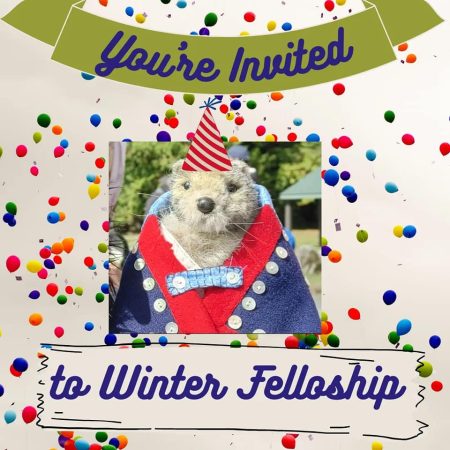 Join us in celebrating Perry the Marmots Birthday Bash at Winter Fellowship 2023!
Since Perry is such an important figure in our Lodge, the Lodge Officers have decided to have Winter Fellowship in honor of our esteemed mascot's birthday. My Team and I having been working hard to provide an amazing Party for Perry and his guests.
On Friday:
Friday will be a Cracker Barrel & Board games.



On Saturday:
The Legacy Auction

Custom T-shirt Station

 

A Scavenger Hunt

 

Escape Room 

 

Field Games

 

Open Climb at The Climbing Tower

Marmot Party

 

A Brotherhood Ceremony
And more to be announced!  
On Sunday:  
Friday
6:00  p.m.       Arrowmen begin arriving / Check-in begins
7:30  p.m.       Cracker Barrel
11:00  p.m.     Lights Out

Saturday
7:50  a.m.       Flag Ceremony
8:00  a.m.       Breakfast
9:00  a.m.       Activity Block 1
12:00  p.m.     Lunch
1:00  p.m.       Activity Block 2 / Legacy Service Project Auction
5:50  p.m.       Flag Ceremony
6:00  p.m.       Dinner
7:30  p.m.       Brotherhood Hike
9:00  p.m.       Cracker Barrel & Marmot Party
11:00  p.m.     Lights Out


Sunday
7:00  a.m.       All camp rise and pack (Campsites cleaned before Breakfast)
7:50  a.m.       Flag Ceremony 
8:00  a.m.       Breakfast
8:45  a.m.       Scouts Own Service
9:00  a.m.       Chapter Olympics
10:00  a.m.     Camp wide clean up
11:00  a.m.     Check out
12:00  p.m.     Staff Checkout (AS LONG AS CAMP IS CLEAN,   DETERMINED BY RANGER) 
Uniform and Sash
Warm sleeping bag 
Cold weather clothes 
Rain layer 
Good water resistant boots 
Trading post money 
All ten essentials
Time until Winter Fellowship